Emergency Medical Services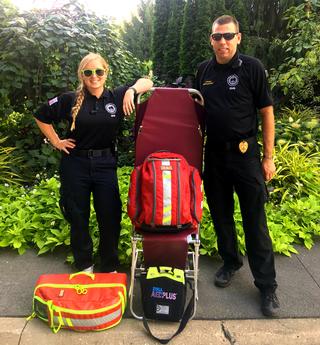 It is a scary world we are living in right now. There are mass shootings at concerts, schools, and places of worship. At all of these events there have resulted in fatalities and/or severe injuries.
How can Houston Protection and Investigation Service aid your facility with this unfortunately strong possibility at your facility? Houston is able to teach your facilities management, staff, and/or congregants how to help their fellow members until help arrives.
This course is taught by Houston EMS Division members. Houston EMS Division is an Illinois Department of Public Health (IDPH) Licensed Basic Life Support (BLS) Non Transport agency. In addition to providing training, Houston EMS can also staff your event with BLS medical care including an Automatic External Defibrillator (AED) that operates under the Highland Park EMS System, guidelines, and medical direction.
Until Help Arrives is a program based on guidelines of the Centers for Disease Control (CDC) and Federal Emergency Management Agency (FEMA) along with other stakeholders.
The Objectives to the course are:
Use simple and effective skills to save a life
Communicate with a 9-1-1 operator
Act to protect the injured from further harm
Position the injured
Stop life-threatening bleeding
Provide emotional support
Houston EMS Division will soon be able to offer CPR and AED certification training to your facility as well. We will keep you posted when classes are available.
Houston Protection and Investigation Service will continue to provide you with the best customer service focused security services to reduce the threat of an incident at your facility but also wanted its customers to know that we are also provide medical training to you and offer up medically trained staff for your facility or event.